Description
After Sale Service Introduction
What kind of support you can get from Hoace Intelligent?
Lifetime Tech Support

Default 3-Year Warranty
2-year Warranty Extended for Buyer Show
30% OFF for Parts of Machine to replace beyond the warranty
Lifetime Tech Assistance for your marking solution

Local Tech Specialists

For complex machine crashes that our technician can't deal with, local tech Specialists will assist.
Local after-sales service area:
USA / Canada / Brazil / Mexico / Ecuador
Turkey/Ukraine/Kazakhstan/Iraq
Korea / Thailand / Indonesia / India
Poland / Saudi Arabia / Italy
Australia / South Africa
From March 12, 2022: HOACE Intelligent has decided to withdraw from the Russian market. (We will continue to provide after-sales service to our previous customers but will not start new business)
Free Tutorials for Beginners

Customer Support Center

Online Chat Support
Prompt reply within 24 hours
Customer Complaint Channel
Application
Applicable Materials:
Metals: Aluminum, Gold, Silver, Copper, Stainless Steel, Brass, Titanium, Tungsten,
Nonmetals: Colored Acrylic, Hard Plastics, Brick, Granite, Marble, Tile, Nylon, Light Button, ABS, PVC, PES, Ceramic, Rock, Stone, Marble, Artificial Leather, etc.
*Some PVC-based acrylics can create toxic fumes when lasered.
Contact us with questions on specific materials not listed, we can process a sample for confirmation.
Applicable Industry:
Workshop, Hardware industry, Gift Shop, Print Shop, 3C Digital, Souvenir Shop, Jewelry Store, Pet Store, Medical Use, Small Business, Esty Seller, Munitioner, Education, Office, DIY, Kickstarter Entrepreneur.
Application Cases:
Engraving on jewelry, guns, firearms, blades, axes, knives, coins, stamps, forks, spoons, cutlery, flasks, wallets, tumblers, mugs, cups, dog tags, slate coasters, etc.
Laser mark logo, text, barcode, numbers, serial numbers, image, photo on metal & plastic parts and tools, wrenches, measuring tools, sanitary ware, stainless steel, medical equipment, luggage, gifts, table bottom, glasses frames, instruments.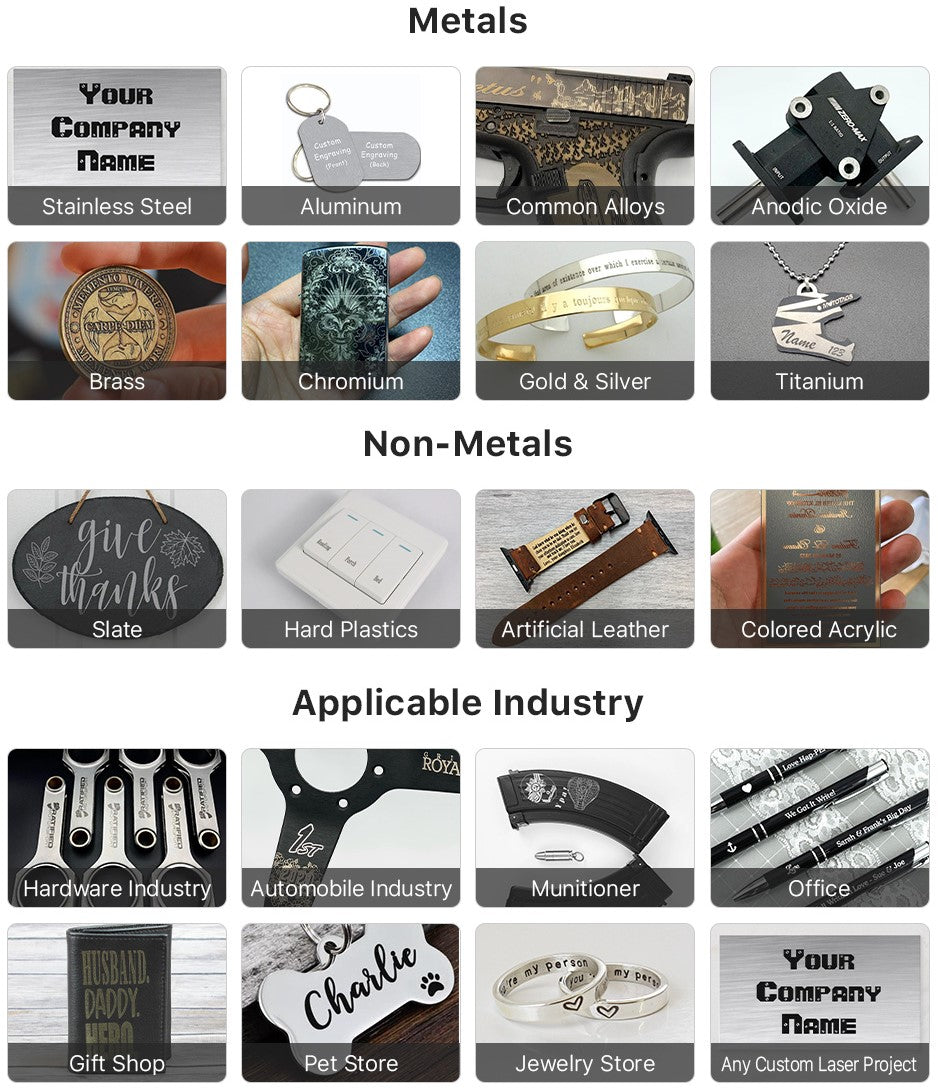 Machine Features & Benefits
HF Series Mini Fiber Laser Marking Machine , High configuration and quality,with marking high precision speed and stability, no pollution, low noise and other significant characteristics.
Laser power : 20w/30w/50w(optional)
Laser source : JPT, MAX, IPG ,RAYCUS (optional)
Lens,Marking area:70*70mm, 110*110mm, 150*150mm, 175*175mm (Contact us for larger area engraving, we have large format machines)
●Fast speed, more stability laser mode
●Long life,the theoretical working time is of 100,000 hours;
●High photoelectric conversion efficiency, low power consumption;
●Simple operating system, flexible and convenient typesetting, compatible with AUTOCAD, CORELDRAW, PHOTOSHOP and other software output files;
●Chinese and English characters, Numbers, bar codes, qr codes, graphics is available ,support PLT, DXF, AI, BMP and other file formats, SHX, TTF font library can be directly used;
●The system can automatically encode and print the serial number, batch number, date and so on.
If you need to mark leather, wood, glass and other materials, it is recommended to use CO2 and UV marking machines.If processing cups, rings and other cylindrical or round bodies,we can provide rotating fixtures. Please contact us for more information : info@hoace.com, we will provide professional solutions.
Free test samples – We can carry out free marking effect tests according to your product material
Video Live- You can connect with our sales consultants to watch the production process and the operation of the machine in online video.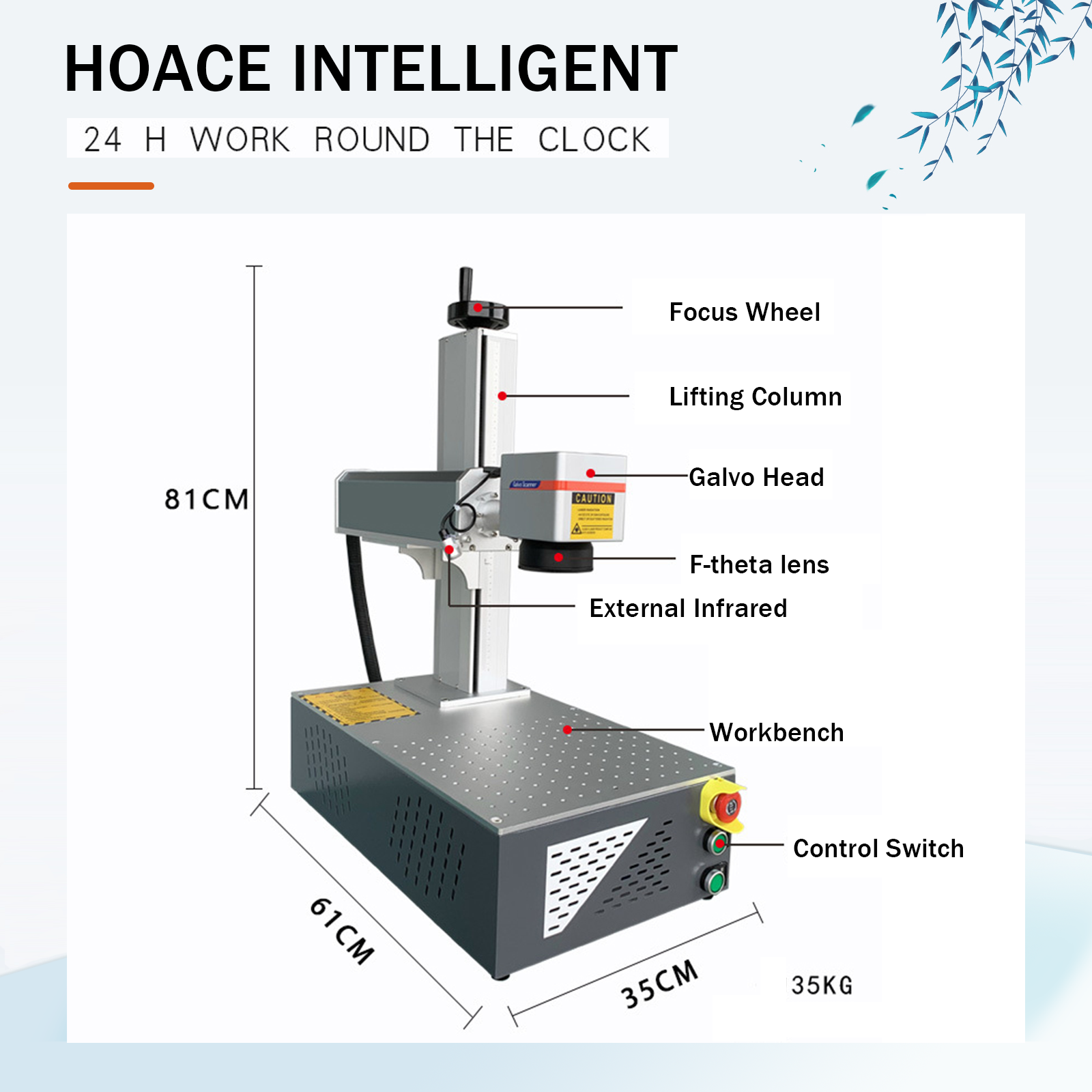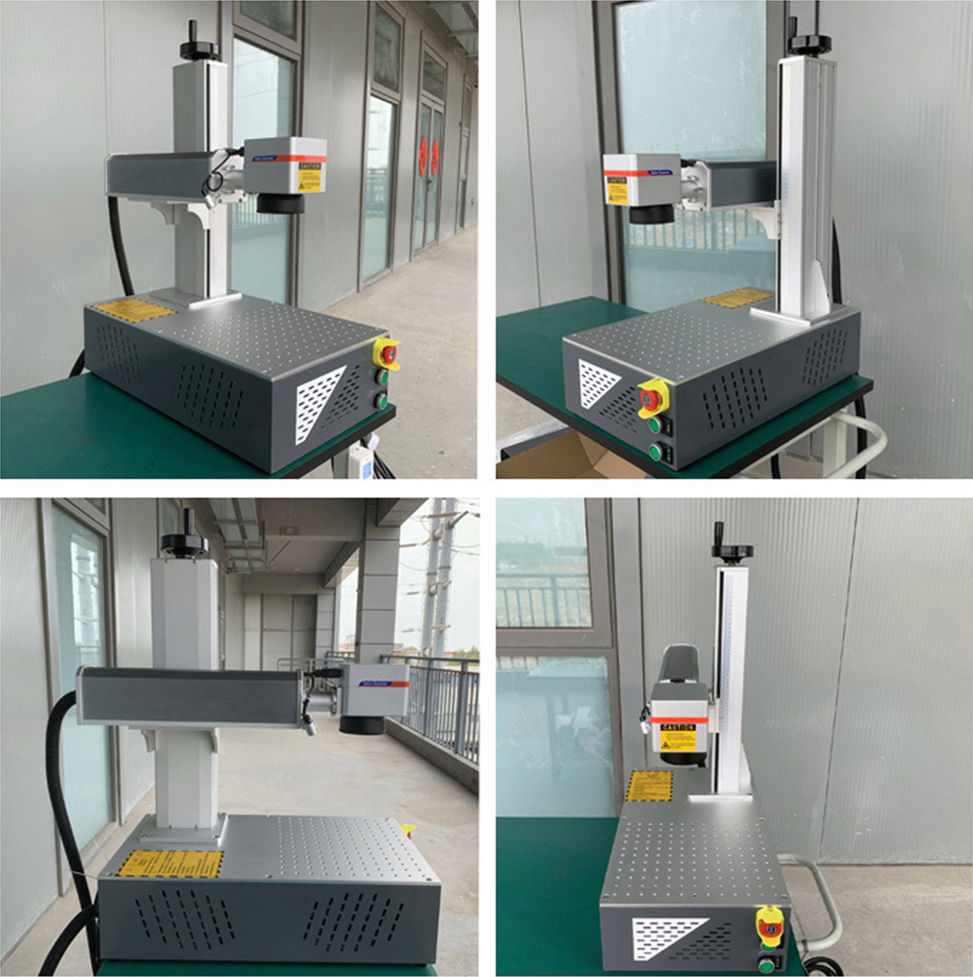 Machine Specification
Name

HF Series Mini Fiber Laser Marking Machine

Model

HF-S20

HF-S30

HF-S50

Laser Power

20 Watt

30 Watt

50 Watt

Laser type

Max / Raycus / JPT / IPG Laser Source

Wavelength

1060-1085 nm

Marking Speedy

≤ 7000mm/s

≤ 7000mm/s

≤ 7000mm/s

Laser Frequency (kHz)

20-80KHZ

1-400KHZ

1.6-4000KHZ

Pulse Width

120-150ns

120-150ns

2-500ns

Pulse Energy

1 mJ

1 mJ

1.5 mJ

Marking deep

0.1-0.5mm

0.1-0.5mm

0.1-2mm

Power consumption

500W

800W

1000W

Marking area

110×110mm / 150*150mm 175×175mm

Cooling System

Air Cooling

Wooden Packing size

75*46*57 cm / (L*W*H)

Gross weight

20 KG

Optional Rotary Fixture:

50mm, 69mm, 80mm, 100mm, 120mm, 160mm, 200mm, 220mm etc.

More optional Parts:

Conveyor table / Vacuum system / Electric XY table.

Electrical Requirements

110V-240V/50Hz-60Hz(According to local electricity supply).
Reference scan area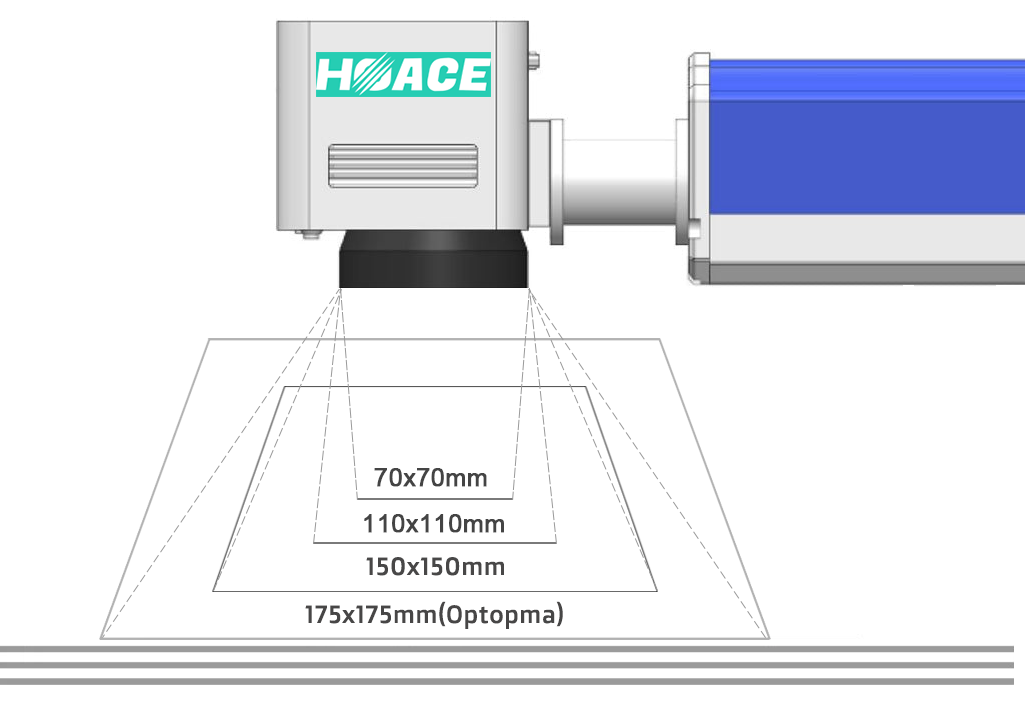 High-quality F-Theta lenses guarantee a perfect application result over the entire surface.
We can equip different F-theta lens according customer marking products size. Laser standard size :110*110mm, the bigger lens the longer focus so laser beam will be weak.
| | | | | |
| --- | --- | --- | --- | --- |
| F-theta Part No. | F-100 | F-160 | F-210 | F-254 |
| Working Fields | 70*70mm | 110X110mm | 150X150mm | 175X175mm |
| Recommended Column Height | 500 mm | 500 mm | 500 mm | 500 mm |
| Focal Length | Non-standard 100mm | 160mm | 210mm | 254mm |
REMARK : Machine default Standard installation F-160, marking area 110*110mm, Column high 500mm
Machine detail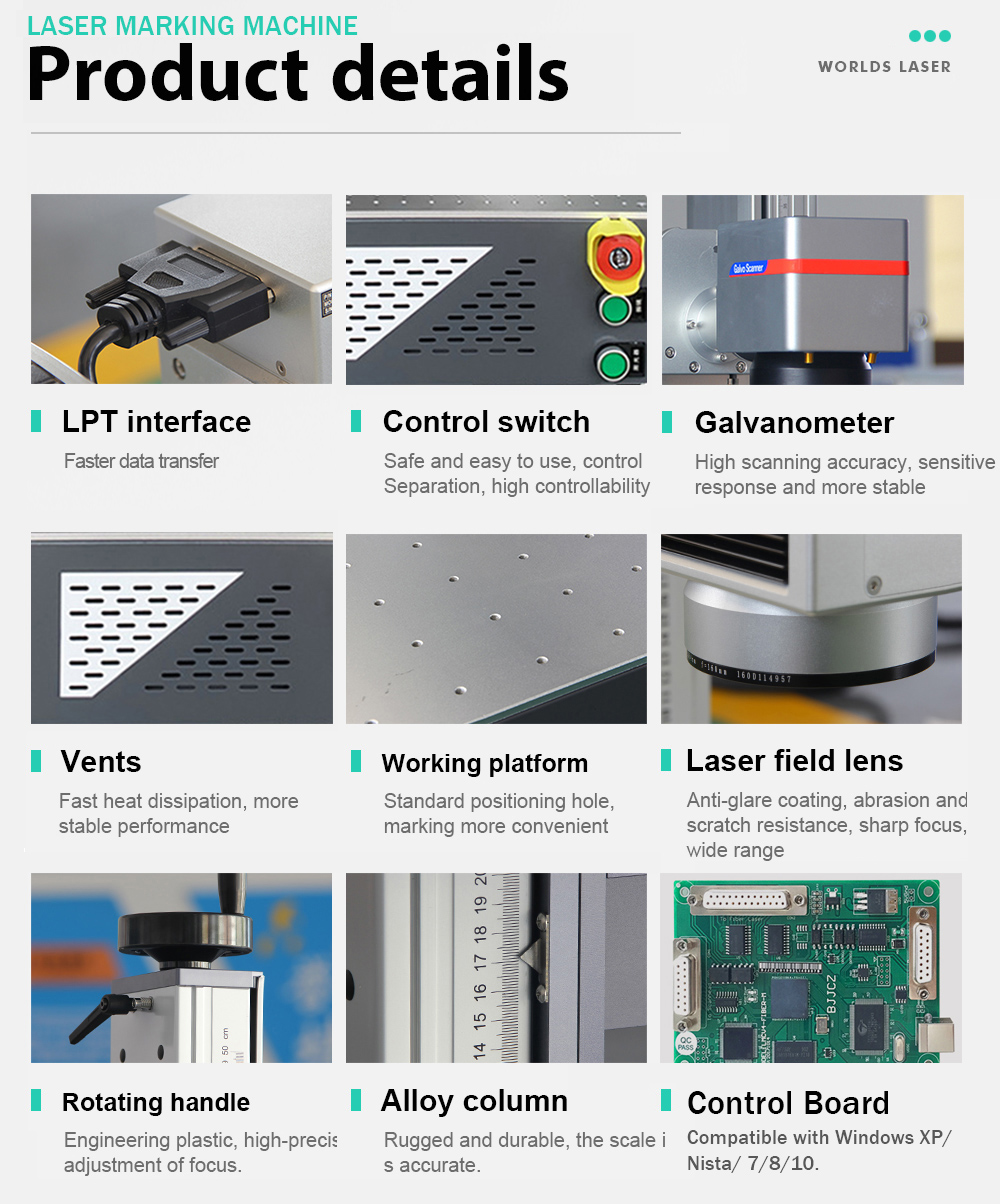 Kindly reminder
1. If you need for ring , jewelry , bracelet engraving , or tumbler marking , we have different models rotary device here , suitable for different work , so let us know in advance , we will recommend the suitable accessories device for you
2. If you do gold , silver , stainless steel , aluminum cutting mostly , kindly suggest take the fixture together These two are the most popular , there are also have many option accessories , like pen rotary for pen fast speed marking , X Y table for help to adjust product height when working , without moving product etc , kindly list you request , we will recommend suitable accessories based on our professional laser device knowledge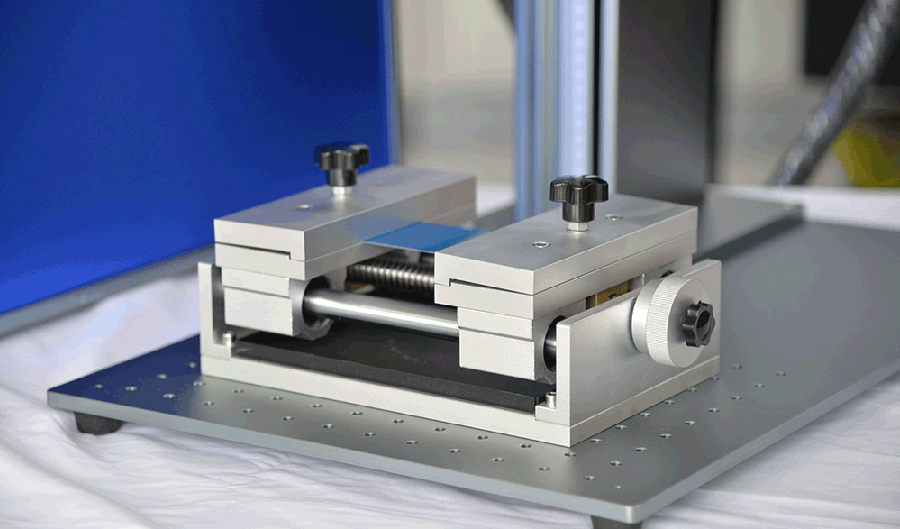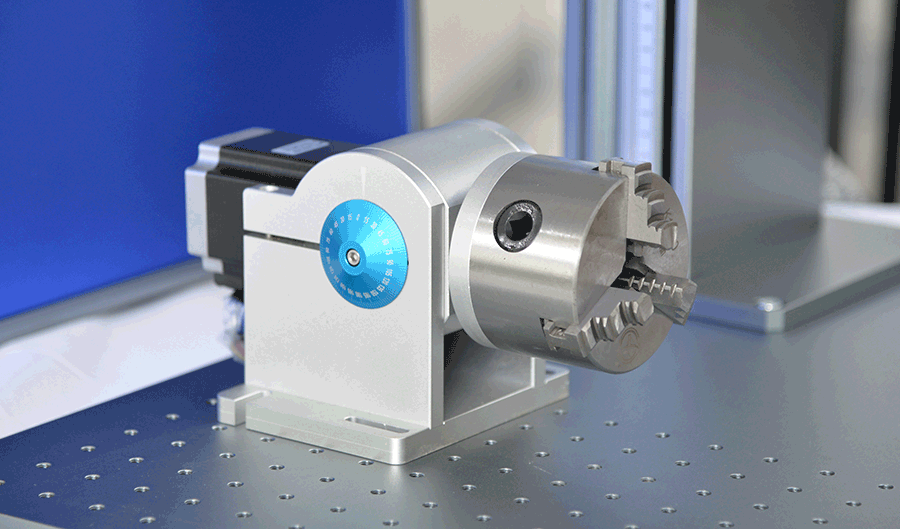 Ezcad- software
Powerful editing function.
Friendly interface.
Easy to use.
Support Microsoft Windows XP, VISTA, Win7, Win10 system.
Support ai, dxf, dst,plt, bmp, jpg, gif, tga, png, tif and other file formats.
Support for TrueType fonts, single line fonts USF), SHX fonts, dot matrix fonts (DMF),1D bar codes and 2D bar codes. Flexible variable text processing, changing text in real time during processing, can d-irectly read and write text files, SQL databases and Excel file.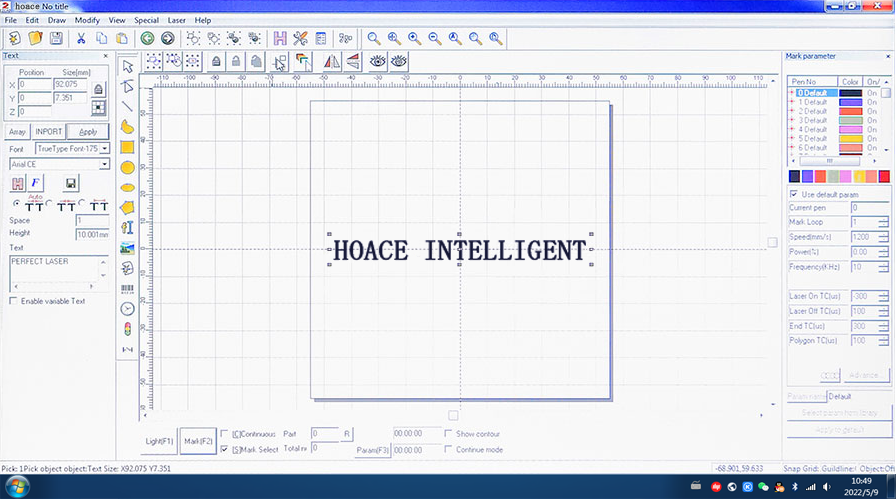 PACKING LIST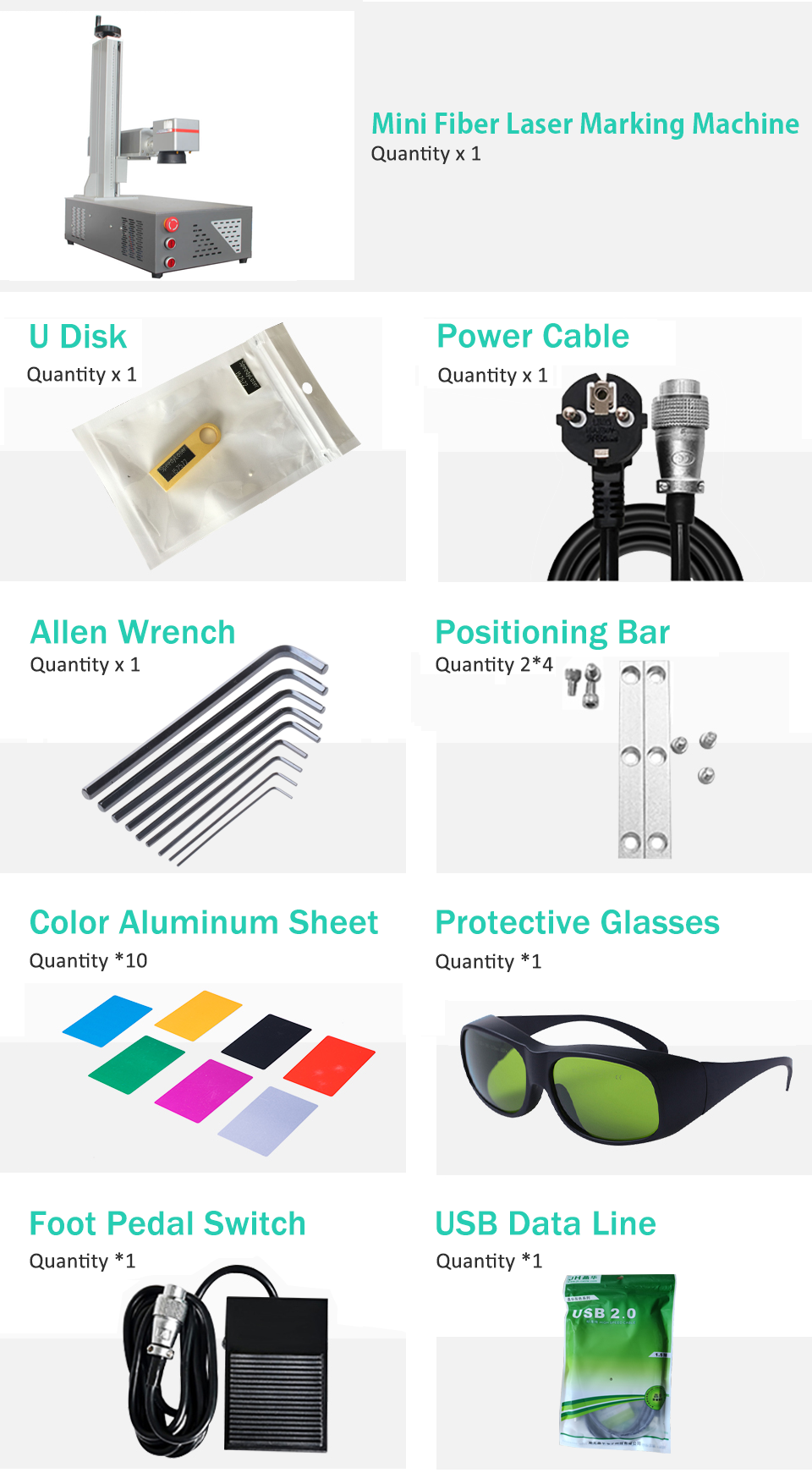 Optional Accessories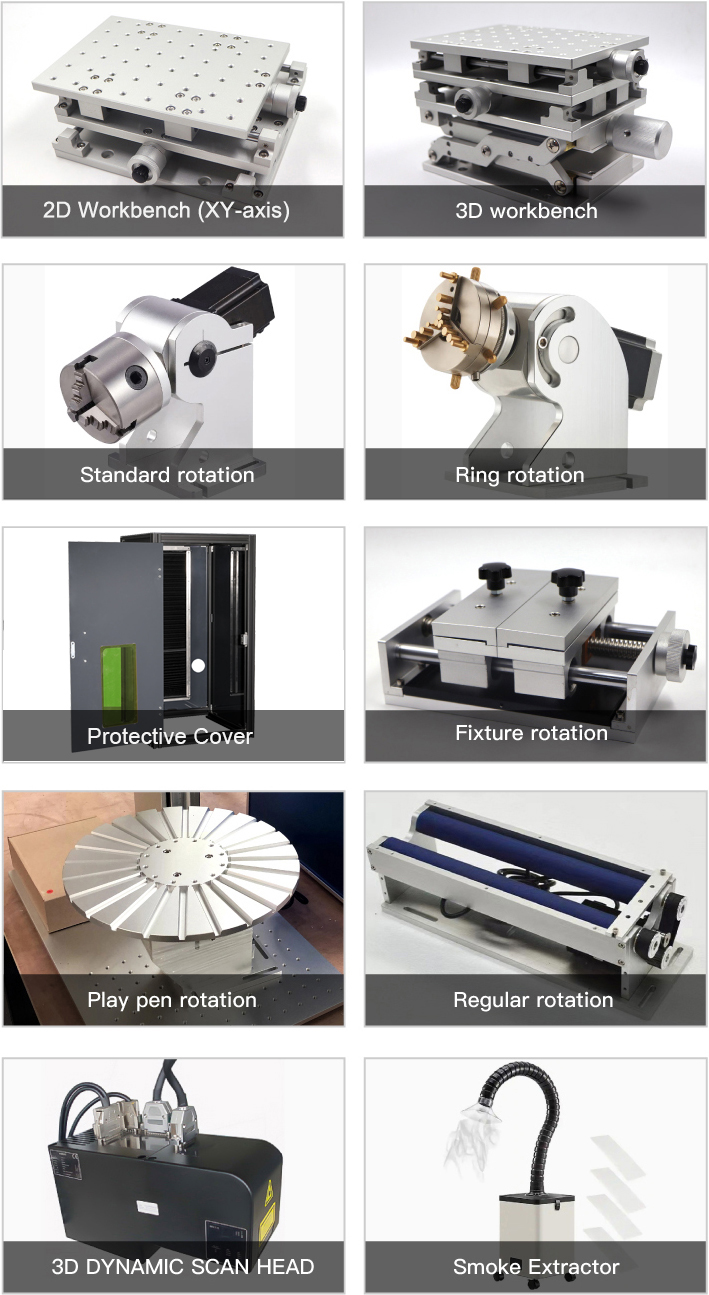 Packing & Delivery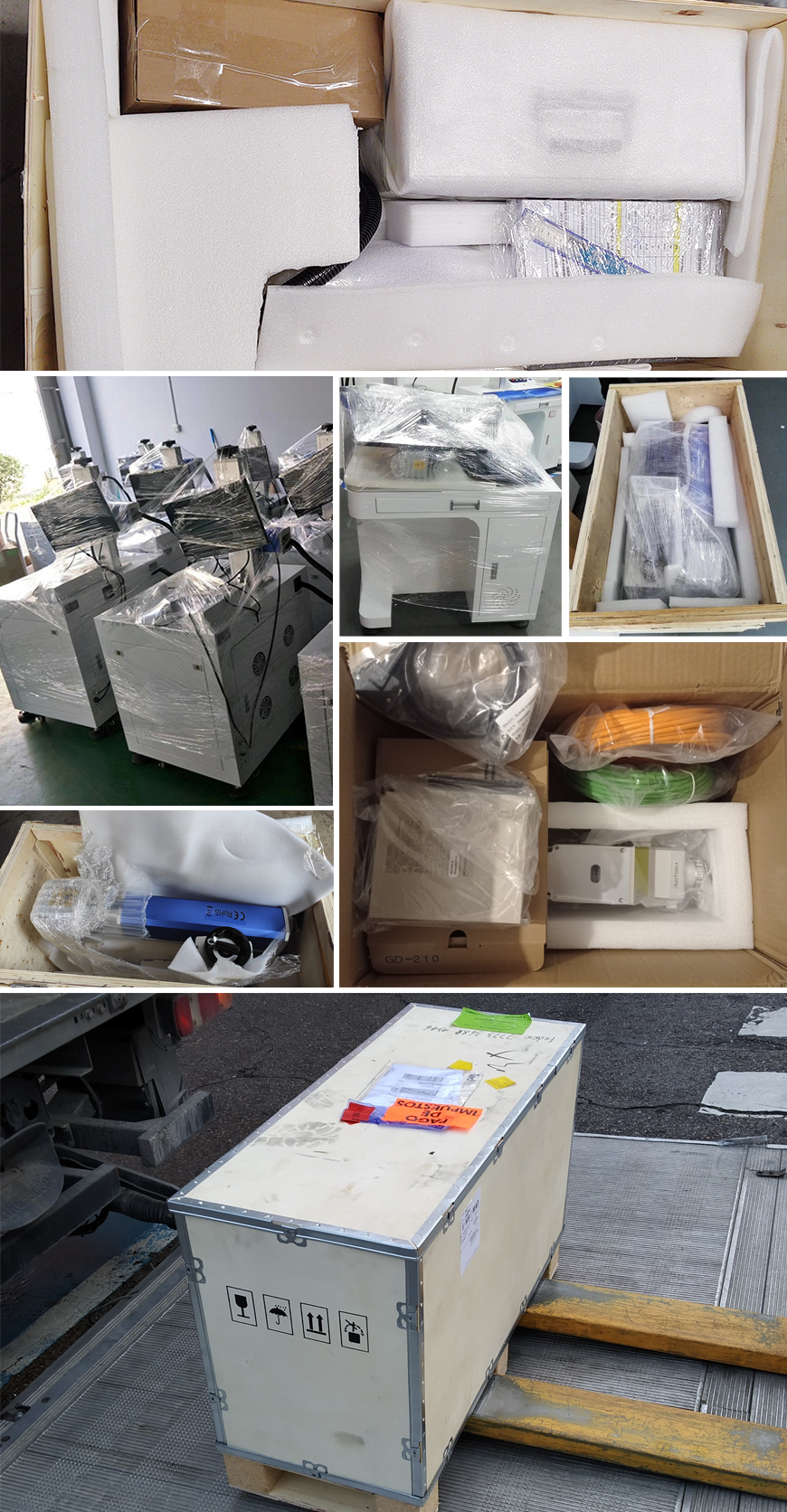 ABOUT US
* 15 years factory production experience
* 3 years machine warranty
* 156 exported country experience
* 38000 square meters fiber laser marking machine factory
* About Shandong Hoace Intelligent Equipment Co.,Ltd.is established in January 2003, owns more than 2000 square meters of researching and office space, more than 38000 square meters factory.All machines , passed the European Union CE authentication, American certificate and are certified to ISO 9001. Products are sold to USA,Canada, Australia, Europe, South east Asia,Africa etc,more than 160 countries and areas,and supply OEM service for more than 30 manufactures.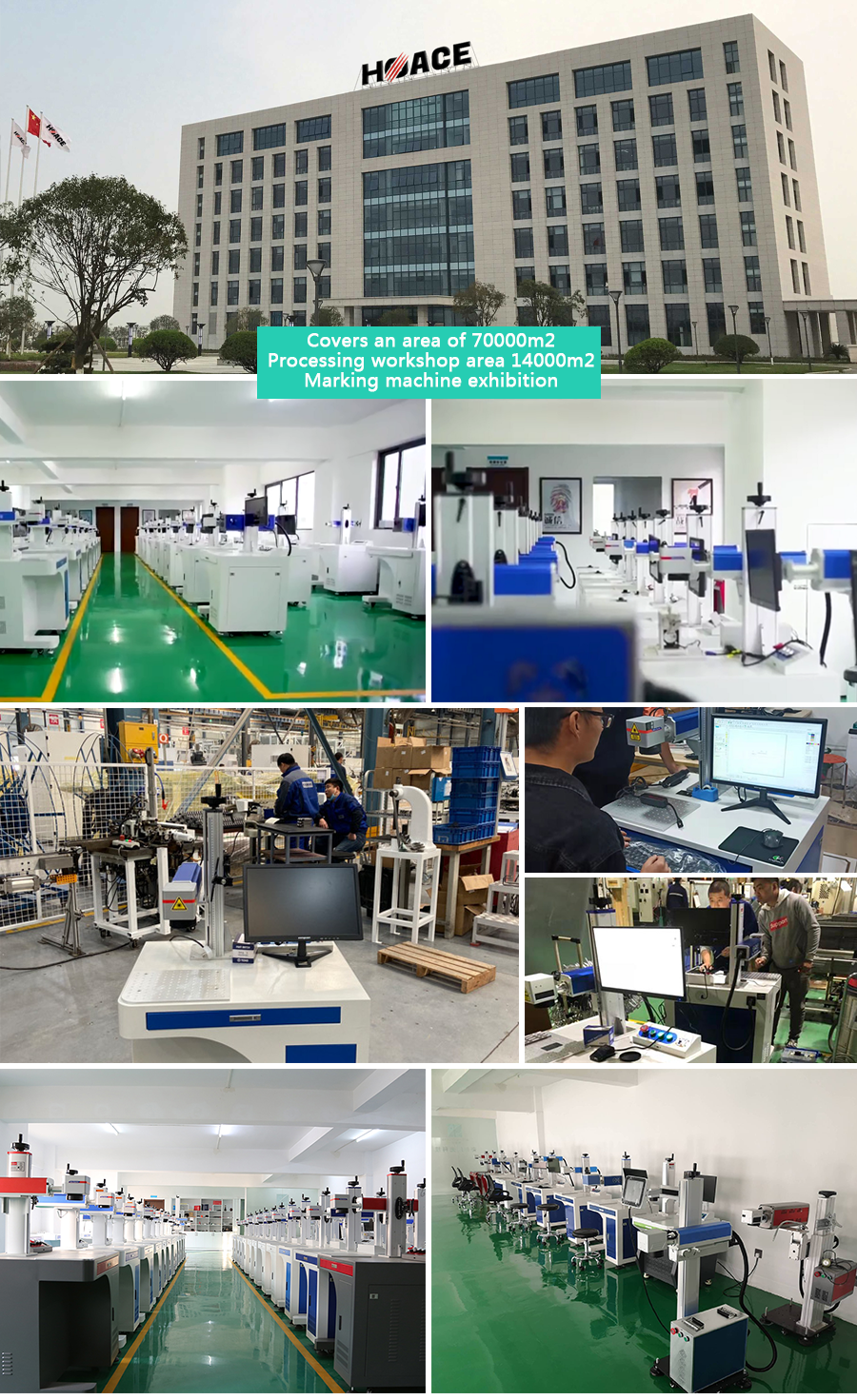 Welcome to Visit Our Factory
If you have plan to visit our fiber/UV laser marking machine factory, just contact us is ok, we will arrange everything well according to your schedule. no matter what trantport way that you want to choose, We will have pick you up, if you need us to arrange your hotel, please contact us, 24×7, we always here!
Customer Show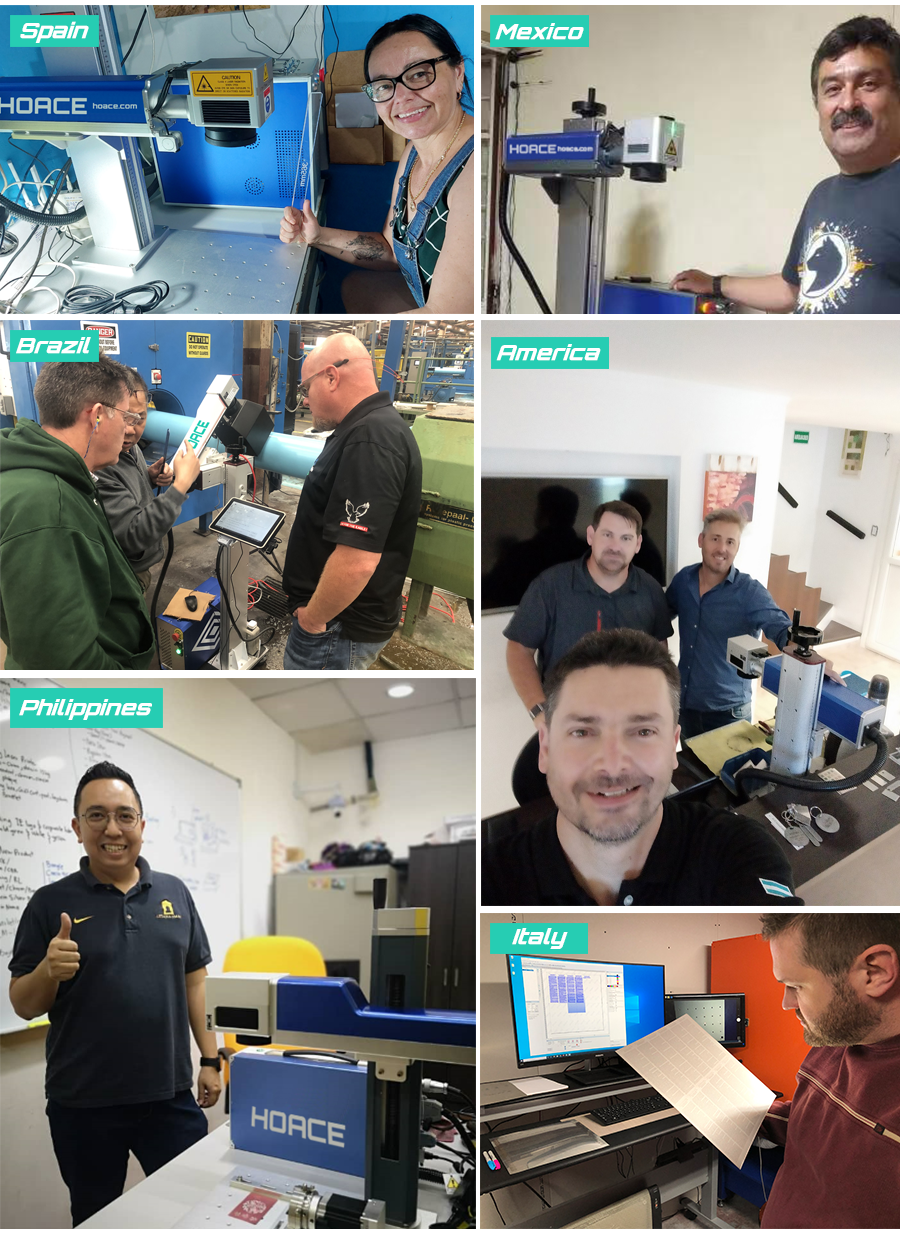 Our Certificate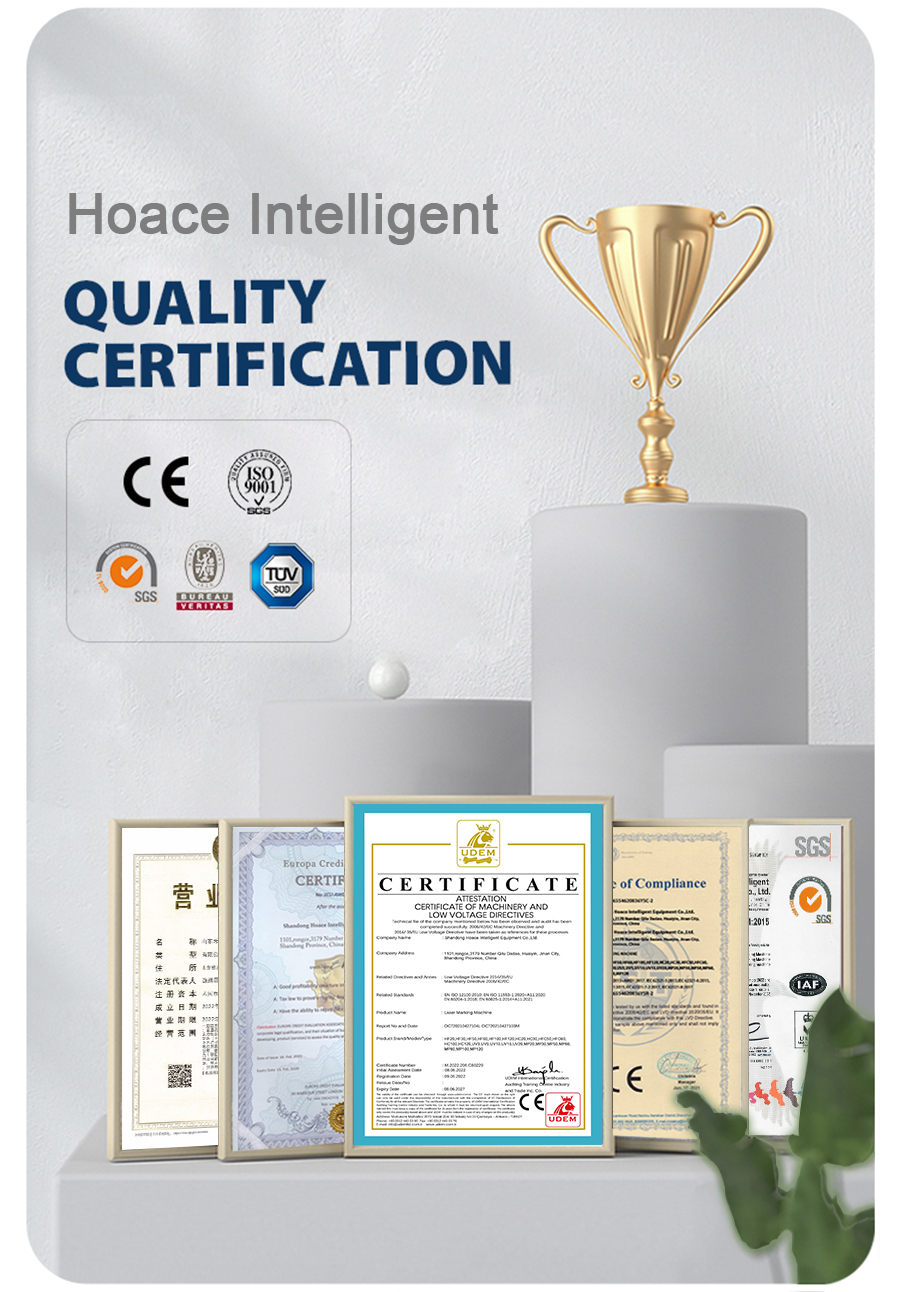 FAQ
1. Q: What are the file types that Hoace Series Software imports?
A: You can import any jpg, bmp, plt, dxf and png files that you want.
2. Q: What's the computer requirements?
A: Hoace Series machines are compatible with Windows? XP/7/8/10 both 32-bit and 64-bit operating systems. The file transfer is performed via USB connection to the computer at speeds up to 500 KB per second or via USB flash drive direct transfer.
3. Q: Is there any laser machine maintenance?
A: All of the configurations of Hoace Series laser marking machine is free maintenance, we provide 2 years warranty.
Q4. Q: How does the Hoace Series machine working?
A: A laser machine works by directing a very powerful laser beam at a precise focal length onto a variety of materials. Depending on the speed and power set, the laser beam will either remove the surface of the material or cut through it.
5. Q: What are the consumables?
A: The Hoace Series laser marking machine if free of maintenance and there are no consumables.
6. Q: Does your laser run from a laptop or Desktop PC?
A: bothare OK, as long as your operation system is window 2000/XP/vista/win7.
7. Q: Does your laser work from printer in coreldraw/autocad?
A: our laser machine can work in CorelDraw and AutoCAD directly.and it connects to PC by using a USB cable.
8. Q: What files is the software compatible with?
A: JPG,PNG,BMP, PLT, DST, DXF,CDR,AI,DSB,GIF,MNG,TIF,TGA,PCX,JP2,JPC,PGX,RAS,PNM,SKA,RAW.
9. Q: Whether it can work with Ratory Device?
A: Yes, it can work with Rotary device, we also have many kinds rotary you can choose.
10.Q: How long is your delivery time?
A: We usually make delivery in one weeks after payment.
11.Q: How about the package?
A: Every machine is packed in wooden boxes, if there is a problem with the transportation, we will take full responsibility.